REx-PN RULES
Terms & Conditions of the REx-PN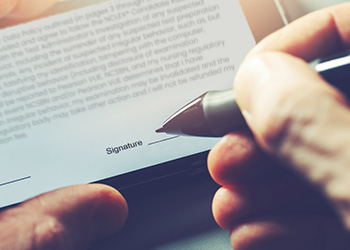 Candidate Rules
Candidates are required to review the Candidate Rules prior to taking the exam. On exam day at check-in, candidates are directed to read the Candidate Statement and provide an electronic signature, agreeing to the terms and conditions of the REx-PN. Additionally, to ensure a high level of security, candidates will be monitored at all times and are subject to audio and video recording.
Download Rules
Français
Grounds for Dismissal or Cancellation of Results
A candidate who violates the test center regulations or rules, or engages in irregular behavior, misconduct and/or does not follow the test administrator's warning to discontinue inappropriate behavior may be dismissed from the test center and their exam fee will not be refunded. Additionally, the exam result may be withheld or canceled and the nursing regulatory body may take other disciplinary action such as denial of a license/registration and/or disqualifying candidates from future REx-PN registrations for licensure/registration.
Test Center Violations

Behaviors that constitute irregular behavior or misconduct include but are not limited to:
Giving or receiving assistance of any kind.
Using, accessing, or attempting to access any prohibited aids. Prohibited aids are any devices or materials that will be helpful in taking the REx-PN. Examples of aids that are prohibited are electronic devices (e.g. cell/mobile/smart phones, tablets, smart watches, etc.), handheld calculators, conversion tables, dictionaries, etc.
Attempting to take the examination for someone else.
Failing to follow testing regulations or the instructions of the test administrator.
Creating a disturbance of any kind.
Tampering with the operation of the computer or attempting to use it for any function other than taking the examination.
Candidate


Statement

By providing a digital signature, I give Pearson VUE my explicit consent to retain and transmit my personal data and test responses to Pearson VUE, my nursing regulatory body, and to NCSBN (any of which may be outside of the country in which I am testing). I also agree to the terms and conditions of the NCSBN Biometric Data Policy outlined on pages 3 through 6. I understand the information provided and agree to follow the REx-PN® Candidate Rules. I agree to cooperate with the Test Administrator's investigation of any suspected irregular behavior, including the surrender of any suspected test preparation or study materials. Any incident of suspected irregular behavior, such as, but not limited to, falsifying my identification, tampering with the computer, engaging in disruptive behavior (including disclosure of examination content), will be reported to Pearson VUE, NCSBN, and my nursing regulatory body. In the event NCSBN and/or Pearson VUE determines that I have engaged in irregular behavior, my examination may be invalidated and the nursing regulatory body may take other action and I will not be refunded my examination fee.